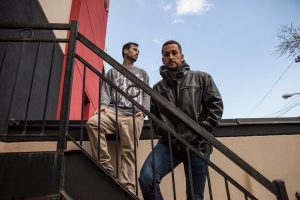 1WayTKT is back with their new single '7th and Spring' (feat. Lowwki). The title refers to a popular intersection in downtown Los Angeles where the group had some amazing nights out. The laid back disco groove is inspired by the palm trees and sunshine, and the fun infectious backdrop will leave everyone singing "you right, you right, you right you right!"
1WAYTKT is a DJ/production team based out of New York City. They have performed with artists in all genres of music including LMFAO, Nas, Kid Cudi, Talib Kweli and others, as well as produced records for major Billboard artists like Outasight, Young Money, Wu-Tang Clan, and Dogg Pound Gang, and more.
We are excited to present the premiere of '7th and Spring' (feat. Lowwki) alongside an interview with 1WayTKT below!
What are four words you would use to describe your music?
Fun, Original, Organic, Upbeat
How does a song come together for you? What is the songwriting process?
Songs come together many different ways. Sometimes we start with a concept or sample, and produce around that. Sometimes we write the music simultaneously as our team of writers create the top line. Other times, we create the instrumental first, and the writers write to it later. We prefer everyone to work together in the same room as often as possible, but we also email vocals around if need be. In the case of, '7th and Spring' we were actually spinning the instrumental and thought it was complete for about a year before Lowwki heard it and gave it the life it has today.
What was the first album/CD you ever bought?
Nirvana – "Nevermind" and Kris Kross – "Totally Krossed Out"
What album do you know every word to?
Snoop Dogg – "Doggystyle"
Share some advice for other bands/artists creating original music?
Find a way to create a sustainable model. It's more important to have as many "up at bats" as possible than it is to make one perfect piece of art. Finished not perfect, just release music, get feedback, and get better. Don't spend days, weeks, months over-analyzing tracks, that takes the fun out.
What is the most memorable response you have had to your music?
We have performed for some pretty big crowds, which is always a rush. And heard our music in some cool ad campaigns. But the most memorable is probably a fan that asked for a custom "Happy Birthday" video from us for a friend.
If you could create your own radio show, what kind of music would you feature and why?
We have always loved under-represented independent music, in all genres. We are fans of music in general, and believe there is a time and a place for every mood. We come from a DJ background, playing whatever the crowd needs for a good time. So we imagine we would have a slot for everything from jazz and punk to our more traditional mediums of house and disco. We both have a solid appreciation for classic hip-hop, which influenced all of the modern pop music out now.
Tell us about your upcoming releases?
As we mentioned, we made the track to '7th and Spring' about a year ago. It was just sitting on the computer, and one day I decided to show it to Lowwki, who instantly fell in love with it. After spending a week together out in Los Angeles, we returned back to New York, where we did most of the post-production. The disco groove is our usual fun-loving, feel-good vibe, and it mixed perfectly with his free spirited vocal. This is a great sample of the "Sunday Funktion" EP, with 7 tracks all guaranteed to bring the funk and make people dance.
Final words for your fans?
As producers of dance music, hip hop, disco, and other genres we are heavily influenced by all the cultures and artists that birthed these movements – many of these cultures representing people of color. As white kids growing up in the suburbs, we did our best to study and learn about these cultures as much as we could. We both had the privilege of learning jazz at an early age taught by an accomplished producer, and it was always important to understand the roots and origins of the music we create. During this social climate, it's even more important to acknowledge the people and influences that created these movements – specifically African, Caribbean and South American people of color that developed these sounds and rhythms that made many modern genres of western music so popular around the globe. 1WayTKT is committed to recognizing, supporting, and contributing to these cultures as best we can by studying the origins, learning the history, and creating music with people from all different cultures and backgrounds in order to help push forward a modern universal sound that can be shared and enjoyed by people all ages, races, colors, and nationalities. We appreciate the voices of our fans around the world and are always eager to learn new ways to contribute to these musical genres while honoring the cultures they originated from. Peace and love to all!
Follow 1WayTKT